Сontrol system for awnings:

Weather sensors can be individually set to automatically open/close your motorised blinds based on weather conditions. Sensors include motion, rain, sun & wind.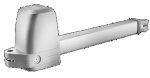 Motorisation is powered by world renowned Somfy; engineered to operate quietly, quickly and smoothly to extend or retract your awnings with ease and convenience.

A centralised remote control to manage up to 16 groups of motorised awnings – open everything from one remote. 1, 2, 4 & 16 channels options with easy customisation. 20m Range.

Using your smartphone with Radio Technology Somfy® is the simplest way to control your motorised awnings, or unlock the power of voice control via third-party assistants.
for superior optical & thermal comfort
In the hot weather, not having protective shade can make a pool or patio completely unusable. But sometimes you also just want to let the sun in. That's where retractable awnings shine: when you don't need them, simply put them away.
FEATURES Folding ARM Awning Art