Product article:
Curtains and Pelmets
When you ask a decorator what accessory can complete the look of your windows, most would confidently say curtains. These are the most sophisticated way for your windows to make a bold statement. When the right curtains are chosen, they can drastically change the view and vibes of your entire house. They are popular for adding softness to every corner of your indoor. Choosing curtains with bold patterns and hues can create drama in your space. Curtains are timeless beauties that charmed their way into the hearts of homeowners and have continued to weave magic with their elegance and grace.
These lightweight window solutions block up to 99% incoming light but you need to choose the right fabric options. Different fabric materials include sheer, light-filtering, room darkening, and blackout. Depending on the requirements of natural light and privacy, you can choose the right one. Curtains made of thick fabric are well suited to prevent glare, UV rays, and excess heat conditions helping you to conserve energy. They will efficiently keep indoor at an ideal temperature, lowering the energy bills.
Curtains are hung loosely from the top of the windows and doors. They either run on tracks or from curtain rods or poles. it is recommended to hang curtains high from near the ceiling letting them fall to the ground to help create an illusion of larger space and high ceilings. They look regal and majestic.
Curtain design
Curtains are cozy and come with endless designs and style choices to beautify your windows in amazing ways. They are made of soft decorative fabricated cloth that adds a vibrant look to your windows.
Curtain insulation
Curtains can provide a lot of insulation, especially if they are made of thick fabric. The close-knit design of blackout fabric, or heat repellent material, can also keep the room warm in the winter and cool in summer.
Curtain privacy
Curtains act as a wonderful shield to protect you from the prying eyes of strangers and your personal space, which means that they can be referred to as polite 'do not disturb' signs. Needless to say, privacy is of utmost importance to all homeowners and no one accept any compromises with it. In today's world, you can take your pick from a stunning variety of options. A little bit of time allotted to researching can help you figure out how to make curtains look nice with minimum effort! You will find that the privacy curtains are available in different sizes, shapes and rates and possess the power to immediately transform any living space.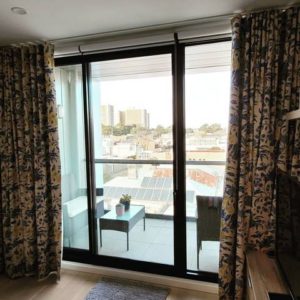 We love our work and our clients appreciate our passion. Our curtains are always in…