Product article:
Roller blinds
When it comes to window coverings, rollers are still one of the most popular choices in both residential and commercial premises. The sleek design and simple operating systems make these blinds practical, elegant, and affordable.
Roller Blinds Style
Rollers in bright cheerful designs can be used in kitchen and laundry areas to create a personalised ambience. Vintage fabrics can brighten corners while cheerful designs can be used in kid's rooms for a pop of colour. Elegant white blinds in the sitting room, study or a commercial setting can really enhance the space while offering respite from harsh sunlight as well as privacy.
Roller Blinds Protection
Blinds in the right places not only keep the temperatures more manageable, they also protect furniture and décor. Prolonged exposure to the sun can fade your cherished belongings. Once you have blinds installed, you can place furniture, paintings and other possessions closer to covered windows where they may be best suited.
What type of windows are Roller blinds best for?
Roller blinds are suitable for most types of windows and doors. If you have a bay window, you can position individual blinds into each frame, and they're great for skylights and Velux windows too. They can be made to fit very wide windows and patio doors, but they also look neat and sleek in small spaces.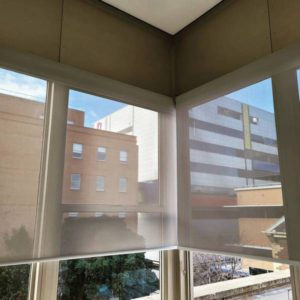 We work with many different customers and many different organisation's across many different industries commercial…