Product article:
Zip screen and drop down
Before the popularity of zip screens, a homeowner with no shade trees had few convenient options to reduce the blazing heat and blinding light from the sun's rays during certain times of the day when enjoying a patio or space near an office window. Also, protection from flying pests like mosquitoes and gnats would only be had by going indoors or relying on bug repellent. Today, automatic shades provide effective protection from airborne insects and the sun's oppressive rays from the floor to the ceiling in just about any space you wish.
This is because the zip screen shading solution is designed to make your space the most comfortable it can possibly be by giving you the ability to limit exposure to the elements as much as you want. These shades can be raised or lowered to the height you prefer. Zip screens give you the ability to enjoy the best of both worlds – the climate control of an indoor space with the sense of openness of the outdoors. You will be amazed at just how clear the view is when looking through the roll up screen from the inside. While presenting an obscured view to those on the outside, the zip screen remains very easy to see through from the inside.
Zip Screen Privacy
Want to enjoy the pleasant weather on your home's patio but are hesitant to do so because of unwanted glares and peeks of neighbors? Get our zip screen blinds installed. They offer enhanced privacy! Once the zip screen system is installed, you will not have to worry about unwanted glares and can just relax on your outdoor terrace or patio.
In addition to that, the fabric used in the manufacturing of this screen is sturdy enough to provide a strong sun protection. It minimizes the effect of ultraviolet rays emitted by the sun.
Zip Screen Protection Against Insects
Where there is greenery, insects are bound to come. They make for one of the biggest causes why people avoid spending time in their lawns or outdoor settings. Often people choose to stay inside because an insect bite can lead to an infection that can take days to be treated.
With the extremely efficient zip screens, you can get rid of this problem and spend as much time as you want in your outdoor settings without worrying about this problem. Zip screens create a total seal and prevent insects from entering your outdoor living space.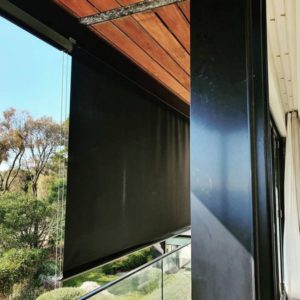 We completed a set of six drop down screen blinds with Somfy_anz motors. Installation was…