Product article:
Skylight blinds-internal
Skylight blinds, also known as rooflight blinds, are designed a little differently than traditional blinds. Since roof windows are often installed at an angle, these blinds need more support than just a simple headrail. Skylight blinds also feature a side rail and bottom rail that keeps the blind fabric flat against the window.
Skylight blinds are made of various materials. You'll find fabric blinds — like roller blinds and roman blinds — in prints, patterns and thousands of hues. Plus, you can choose pleated blinds or honeycomb styles to boost energy savings and add insulation to your windows. There are also PVC and aluminium venetian blinds designed for skylight windows.
What are Skylight Blinds For?
Skylight and roof lantern blinds are the ideal solution for modern homes wanting to take full advantage of natural light. One of today's most popular additions to homes, roof lanterns and skylights are fantastic architectural features which maximise the light and bring the outdoors inside. These large glass ceiling features create a stunning focal point – whatever the room may be.
However, while they may look fantastic, owning a skylight or roof lantern can make south facing rooms unbelievably hot and uncomfortable to sit in. Likewise, the direct sunlight coming in can also result in glare, making it very difficult to watch a movie, have a meal or enjoy the space properly.
One of the most effective ways of ensuring this isn't an issue comes through simply installing a suitable blind or light control solution.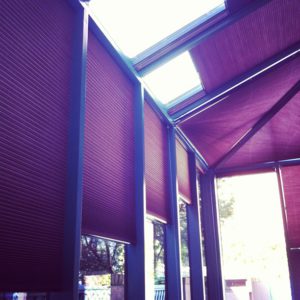 Skylights, Honeycombs, triangle windows. Custom job and colour matching complete! Very satisfied customer.