Product article:
Roman blinds
The roman blinds are great in fashion and are the ultimate in sophistication. They are one of the most ancient types of window coverings. They are sleek in style and are praised for the great and efficient benefits that they provide your home. These window shades are never out of style as most of the homeowners blindly opt to mount these amazing coverings on their doors and windows.
Roman Blinds Aesthetics
One of the major benefits that many people prefer the roman blinds for is the beauty that they offer to your spaces. The style of the roman blinds cannot be compared to any other window treatments. Since they are made of fabric, these blinds transform the entire design of your home. The smoothness of these window coverings instills indescribable warmth in your rooms. They are available in a lovely range of colors and beautiful designer patterns. The fabric choices are available in great variations differing from one another. They are available in any type of fabric from sheer to blackout. You can choose any type of fabric with any thickness in any color and design pattern.
Roman Blinds Privacy
Windows and doors are accessible by outsiders, which lets them peep into your spaces. This makes us feel extremely uncomfortable. One of the major reasons why we choose to dress up our windows with blinds and shades is achieving privacy for our spaces. And since roman shades are known for providing extraordinary privacy, people love to have them installed on their windows and doors. The roman blinds stand as a great choice if privacy is your concern. Especially for spaces like bedrooms and bathrooms, where privacy is an essential attribute that the window covering must fulfill. The fabric you choose for these blinds determines the privacy that they offer your home. The roman blinds are efficient at allowing you to comfortably enjoy your private moments without being concerned about outsiders.
Roman Blinds Light Control
Large windows are beautiful. They make your home even more beautiful and stylish. One of the problems that the wide and huge windows have is the excess light that they let in your spaces. Especially during the summer times, the harmful UV rays and dangerous sunlight are extreme and they make us feel extremely uncomfortable. One of the best choices that you can make to overcome this is to address your windows with roman blinds. While the roman blinds look so smooth and sleek, they also perform a great job in preventing the tough light from entering your spaces. You can choose the thickness of the fabric for your roman blinds.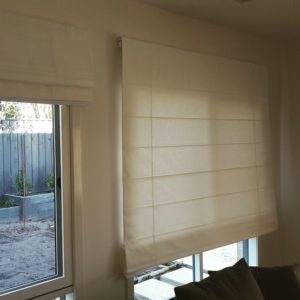 Roman blinds, are one of the most stylish ways to dress up a window.