Product article:
Plantation shutters
Easy to operate and classic to look at, plantation shutters are a versatile type of window covering. They function very well in moist, humid environments like your kitchen areas and bathrooms. Unlike their traditional counterparts, these kinds of shutters have bigger louvers that help in incoming light to enter your interiors. There are quite a few kinds of window shadings that offer this kind of light control flexibility. Sure, you might have harbored the thought that these shutters could look outdated. But one thing is sure you cannot ignore how useful and beneficial they are.
They last longer than other window treatments.
They help in improving ventilation
They help with controlling light
They can be cleaned easily
They provide insulating features
Plantation shutters customization
Easy customization: Shutters are the easiest of the lot to customize so that they can work well with your interiors. No matter the style and color of shutters, they can match any home.
Strong, bold, and elegant, they are a perfect addition to any home. Due to their ability to insulate your entire home, they help reduce your energy bills.
There used to be a time when most plantation homes had shutters, and they were a big thing. However, nowadays, you will find them in any house in the country. The challenge lies in matching your whole home décor with these types of window dressings.
Plantation shutters privacy
Privacy: The beauty of these shutters is not just in their functionalities but in the way they can improve on the existing décor and also give you the privacy that you want. They can be used as room dividers or as storage solutions for your interiors. By separating the intimate spaces from the main passage-ways, they can provide privacy and add glamour to your interiors. Another way these shutters can be utilized is to build over niches and half walls, which can act as cabinets and attractively declutter your areas. At the same time, they also give you the power to control the incoming sun rays.
Plantation shutters energy efficiency
Energy-efficient: These shutters provide extra insulation during the biting cold winters; as a result, they help to reduce the levels of energy consumption in your home. By trapping the heat inside, they make your interiors warm and cozy. Inversely during the harsh summer months, they help to keep your interiors cool by blocking the intense sunlight. That way, your home has well-regulated temperatures throughout the year.
Plantation shutters pet and kid-friendliness
Pet and kid-friendly: The very fact that these shutters do not have cords dangling at the ends or strings at the edges makes it an excellent choice to use in your home. As compared to blinds and drapes, these shutters are a safer option. Now you do not have to worry about your children or pets getting entangled or injured.
Durability: Due to their nature of remaining unaffected during harsh conditions, plantation shutters are well known for their durability and being long-lasting as compared to their counterparts in window treatments. The only thing you have to remember is that you have to maintain them regularly.
Prevent fading of furnishings: Extend the life of your interior furnishings by adopting these shutters. The harmful UV rays of the sun can cause significant damage to your furniture and floor decorations. By changing the position of the louvers, you divert the incoming light passing through. Thereby you can safeguard them and prevent them from fading away.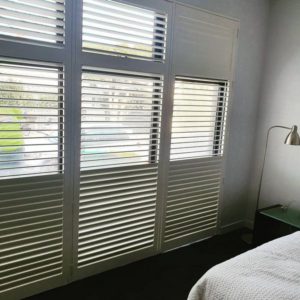 Today we installed some flameless shutters in Elsternwick.