Product article:
Louvres
Louvre blinds are simply blinds with slats. These slats are most commonly horizontal, but also can be vertical and they come in a huge variety of different materials and styles.
That means that all vertical and venetian blinds are in fact, louvre blinds.
You can also get louvre shutters – in fact almost all window shutters are louvred, as slatted window shutters are the most popular style.
This style of blinds and shutters have always retained their popularity. While louvres aren't always the best way to achieve a total blackout at your windows, they do offer much greater versatility for light control and ventilation.
That's because most louvres can be tilted or turned to allow for better airflow or to angle the direction of the light.
What are the different types of louvre window blinds?
Louvred window blinds generally come in two varieties, horizontal and vertical.
Vertical louvre blinds
Vertical louvred blinds are particularly popular for larger windows, as well as being a popular style for patio or french door blinds. Because the vertical slats open in the same direction as the doors, it means you can easily place your blinds where they can partially cover the window using only one track.
Horizontal louvre blinds
Horizontal louvred blinds are more commonly known as venetian blinds. These blinds have horizontal slats that are raised up and down by a chain, cord or sometimes with a motor.
Venetian, or horizontal louvred blinds are one of the most popular styles of blind, mainly because they are durable, easy to clean and give you excellent privacy and light control.
You can tilt the angle of the louvres in your venetian blinds, enabling you to change the amount of light entering your room.
External louvre blinds
Louvre blinds are also an excellent choice for outdoor blinds. If you are enhancing your garden with an outdoor living space or entertainment area, louvred blinds can give you the most flexibility.
The adjustable slats can give you sunlight in the spring, shade in the summer, and keep the outdoor entertainment going even in the rain.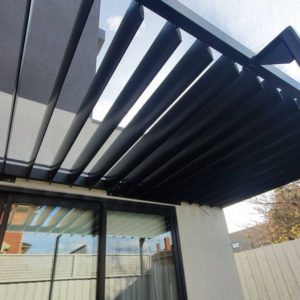 And we've done it again! Motorised 200mm blade sunlouvres installed in Brighton today! This was…