Product article:
Folding arm awning
Folding arm awning are a type of awning that is used primarily to provide complete protection from the elements for any outdoor space. Offering more protection than any other awning type.
Folding arm awnings allow you to get the most out of your outdoor area all year round by providing an all-weather solution without poles. The system features a contemporary, sleek design giving any space a modern atmosphere.
These practical systems are perfect for both residential and commercial areas. Pubs, bars and restaurants all benefit from this obstacle-free design which allows users to make the most of their floor space.
These awnings retract discretely away to provide a perfect setting to enjoy fair weather, yet easily extend offering shelter from excessive heat and rain when conditions aren't favourable. This means that you are able to sit back, relax and enjoy the outdoors regardless of the weather.
Folding Arm Awnings Benefits
Warmth
An awning can keep in up to 10-20% of heat after the sun goes down under your shade for sitting out late. Add in a heater and lights to make a cosy outdoor room well into the night.
Weather Shielding
Protecting your entrance way, outdoor furniture, balcony planting or guests from the elements.
Managing Thermal Gain
Window awnings can keep the heat out of your home, cutting down on the need for air conditioning.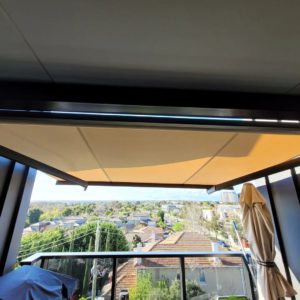 This is how you transform balcony even when you have nothing to secure the awning…