Product article:
External skylight blinds
Skylight and roof lantern blinds are the ideal solution for modern homes wanting to take full advantage of natural light. One of today's most popular additions to homes, roof lanterns and skylights are fantastic architectural features which maximise the light and bring the outdoors inside. These large glass ceiling features create a stunning focal point – whatever the room may be.
However, while they may look fantastic, owning a skylight or roof lantern can make south facing rooms unbelievably hot and uncomfortable to sit in. Likewise, the direct sunlight coming in can also result in glare, making it very difficult to watch a movie, have a meal or enjoy the space properly.
One of the most effective ways of ensuring this isn't an issue comes through simply installing a suitable blind or light control solution.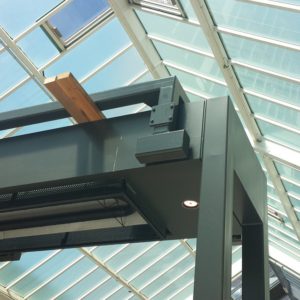 Engineering bracket system at Southgate centre