Product article:
External roller blinds
An outdoor roller blind is similar to an interior roller blind running down vertically in front of glass and open apertures. Fabric is wrapped around a roller-tube which varies in diameter based on the width and drop of the blind, the greater the width/drop the larger the roller-tube to ensure no sagging. The fabric is attached to a lead-rail which contains an integral weight that subsequently ensures the fabric remains taut, under tension at every position, whether the blind is part or fully lowered.
The lead-rail runs within guides to each side, ensuring it runs smoothly and perfectly square. Additionally, the fabric is locked within these side guides through a clever zip locking mechanism, which renders the blind windproof, stops any light shining between the edge of the material and side guides (as there is no gap) and also acts as an insect screen with fitted with our premium material. The side guides which can be face or side fixed depending on the application, are in two parts, a rear and front section, concealing all the fixings.
A cassette casing around the roller-tube provides a neat hideaway for the blind when not in use, concealing the fabric and minimising maintenance. The front of the head-box is hinged so it can easily be removed for any maintenance or remedial purposes. Heavy-duty lugs on the side of the head-box slot within the side guides, supporting it without the need for any physical fixing back to the facade.
Our external roller blinds are fitted with a tubular motor contained inside the roller-tube, which allows for effortless operation from a handheld remote control or wire-free wall switch. Optional sensors create automatic blinds, that position themselves based on the ambient conditions for optimum thermal and visual comfort.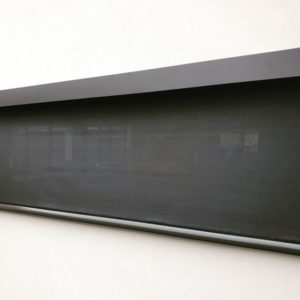 One of our most recent installs before Melbourne weather changed. Small and simple external blind.…